The T-GEx Exhibition 2022 took place successfully and, we would like to take this opportunity to thank all those who participated in this event.
The purpose of this exhibition is to present the results and products of the advanced research being conducted by T-GEx Fellows and Associates, and to have a wide range of participants (including researchers and non-researchers from different fields of expertise) understand and share the significance of the research, as well as to receive valuable advice and feedback for future development from those participants. The theme of this exhibition is "Future Industry-Academia Collaboration through Effective Utilization of 'Technology Assets." Until now, the mainstream of collaboration has been "university to company," as typified by the provision of technological seeds from universities.

However, we would like to add the perspective of "company to university" collaboration, which incorporates technology (or knowledge) assets owned by companies into university research, thereby providing an opportunity to consider the future of Industry-Academia Collaboration from both sides. Based on the above stated goal, we will invite two speakers to give special lectures focusing on research tools (≒Data Science, etc.) that can be used in a wide range of applications, rather than the technology specific to a particular application or device. In addition to Fellows and Associates, young researchers from partner companies will also give presentations on their research in the poster session in order to discuss the possibility of new joint research and Industry-Academia Collaboration through mutual exchange among young researchers.
PROGRAM
2nd Floor, Conference Hall (Special Lectures)
Opening Remarks

WANG Zhigang(Vice President of Gifu University)
---
Special Lecture 1

Basic Research and Needs/Seeds of Product Development

Invited Speaker

OKADA Yasushi(RIKEN/The University of Tokyo)

Under what kind of conditions is it possible to establish "happy industry-academia collaboration" in which the seeds of basic research results are developed into product development? I would like to discuss this issue based on my own experience of joint research and co-development with companies in the development of microscopes and related technologies.
Special Lecture 2

Artificial Intelligence Seen from Behind the Scenes --- A Personal View

Invited Speaker

IDE Tsuyoshi(IBM T.J. Watson Research Center)

It has been a while since artificial intelligence (AI) became a popular topic in the mainstream media, sparked by remarkable achievements of deep learning in the three flagship domains of natural language processing, computer vision, and speech recognition. I will begin my lecture by providing a brief overview of AI research. I will then share my personal views on the reality of AI that I have witnessed in the U.S.: Is deep learning the beginning of the end of something? What are its implications in general application domains? How should we consider the ethical aspects of AI as discussed by the mass media? I will conclude my talk by giving a few examples from my work in which AI made a difference in real industrial applications.
1st Floor, Meeting Room (Poster Session)
Poster Session

In addition to paper posters, videos and other exhibits will be available for attendees to enjoy in-depth discussions only possible on-site.
---
Closing Greetings

KADOMATSU Kenji(Vice President of Nagoya University)
Venue
The Noyori Memorial Conference Hall,
Research Center for Materials Science, Higashiyama Campus, Nagoya University

Address: Furo-cho, Chikusa-ku, Nagoya
TEL: +81-(0)52-789-6121
Campus MapThe Noyori Memorial Conference Hall is indicated as「E3①」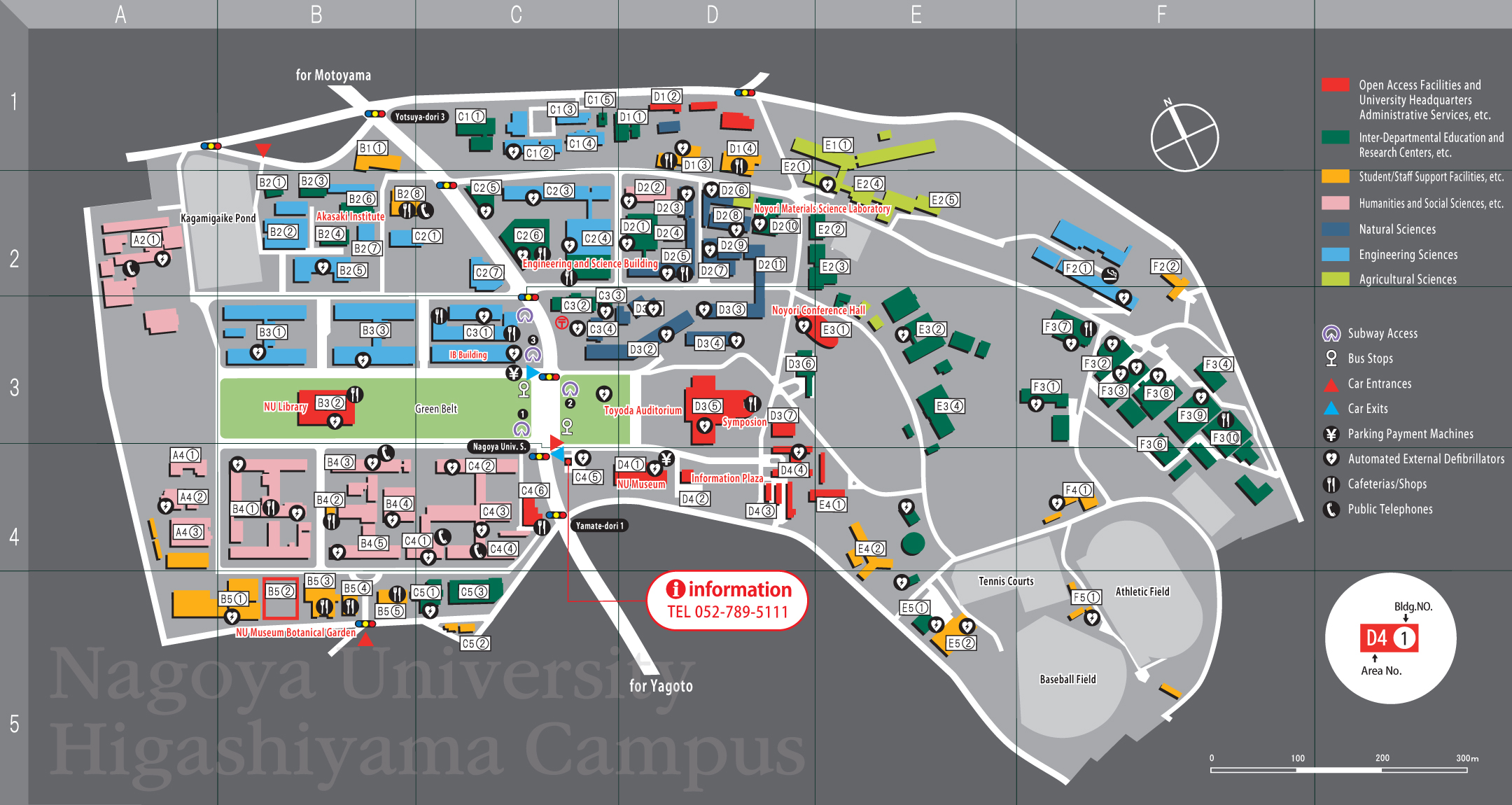 Interior View of the Venue
1st Floor, Meeting Room (Poster Session)

2nd Floor, Conference Hall (Special Lectures)
Contact Information
T-GEx Office (Nagoya University)
t-gex[at]adm.nagoya-u.ac.jp
Please replace [at] with @ when sending an email.
Title of the Poster Presentation and Abstract (Names are listed in Japanese syllabary order and with no honorifics)
The poster presentation will be conducted in three sessions.
Name (Affiliation)
Title Abstract
Session A : 15:10-15:40

Seine A. SHINTANI

Chubu University

Elucidation of the mechanism by which the heart beats stably and efficiently at body temperature, and development of an electron microscope live imaging method for samples moving in solution

The presenter discovered that a contractile rhythm with both chaotic instability and homeostatic stability emerges in warmed myocardial sarcomere. Furthermore, we have found from mathematical model studies that this property is important for heart rate. Based on this fact, we are currently conducting basic research to realize pre-disease diagnosis of heart disease. In addition, as a means for further experimental measurement, we are developing an real-time scanning electron microscopy for the structure and "movement" of moving samples in solution.

Hideki TAMURA

Toyohashi University of Technology

Material perception by the human visual system and its computational model

The human visual system can rapidly determine what material an object is made of (e.g., a metal spoon) and what state an object is (e.g., glossy). Recognizing an object's "material and texture" is indispensable for appropriate actions such as touching or holding an object. In this presentation, we focus on "polished metal" and "transparent glass," both appearances change significantly depending on the surrounding environment. We report on the characteristics of the human visual system and a computational model that simulates humans using machine learning.

Masahito NISHIKAWARA

Toyohashi University of Technology

Advanced heat transfer technologies with porous media and electrohydrodynamics

We need to develop advanced heat transfer and cooling technologies based on requirement for thermal energy utilization, electrification of machine, and high-density packaging of electronic devices. I focus on capillary force, phase change, porous media, electrically driven flow and develop heat transfer and fluid control technologies that cannot be achieved with conventional mechanical fans. The keywords are passive, no moving parts, maintenance-free, and long life. Those activities are introduced.

Hanako HAGIO

Nagoya University

Elucidation of higher-order visual circuits in the brain of goby and investigation of sensory organs and brain morphology aiming at the development of eel larval food

We try to elucidate the visual system and higher cognitive abilities of fish to contribute to the fisheries industries through more efficient catches and aquacultural production of fish. We investigated higher-order visual circuits by tract-tracing methods. These findings will facilitate efficient identification of visual stimuli attractive to fish and promote understanding higher cognitive abilities of fish. In addition, we also found morphological changes of sensory organs including the eyes and brain during development of eels. Furthermore, we succeeded in visualizing the nerves of the whole body. These results provided important clues for eel larval food and ways to improve feeding food to larvae.

Yuki HATTORI

Nagoya University

The cellular dynamics and mechanisms of microglial colonization into the embryonic cerebral wall

Recent studies have elucidated the genetic and functional heterogeneity of microglia in the mouse developing brain. However, what factor causes microglial heterogeneity remains unclear. To test whether differences in microglial colonization routes or timing into the developing cerebral wall could be among the reasons for microglial diversity, we have investigated spatiotemporal mechanisms underlying microglial seeding into the brain by cell tracking and live imaging system.

Hironao MIYATAKE

Nagoya University

Machine Learning Applications in Observational Cosmology

Observational cosmology is the field of exploring the fundamental theory of physics through astronomical observations. In recent and upcoming observational programs, astronomical data is exponentially increasing. Thus, the machine learning technique plays an important role in extracting cosmological information from an overwhelming amount of data. In this presentation, we will review recent machine learning applications in observational cosmology and report the progress of our project related to the T-GEx program.

Kazumasa HIROSE

Aichi Electric

Static Synchronous Compensator for high voltage distribution line(A2-STATCOM)

In recent years, many PV and wind power plants have been connected to the power distribution system. As a result, The voltage on the high-voltage distribution line (voltage 6.6 kV) fluctuates frequently over a short period of time. As a high-speed voltage regulator for these voltage fluctuations, we have commercialized STATCOM (Static Synchronous Compensator) for high-voltage distribution line. STATCOM uses SiC power modules to achieve low loss. Vector control based on instantaneous complex AC theory (Idea Theory) is used to achieve high-speed control.
Session B : 15:40-16:10

Daisuke ICHIHARA

Nagoya University

Challenges for medical and environmental issues by shock wave engineering

The shock waves which generated by a supersonic flight vehicle or explosion phenomena is one kind of compression wave propagating atmospheric media. The shock wave has a non-linear characteristics, which velocity and thermodynamic function changes discontinuously, and as a result, high temperature, high pressure, and high velocity field can be induced. In this presentation, we will review the shock wave engineering researches in our laboratory and report the progress of our project "Investigation of atmospheric pollution from spacecraft re-entry emissions" related to T-Gex programentry environment and expected aerosol dynamics with related topics will be presented.

Kazuki HEISHIMA

Gifu University

Petasin potently inhibits mitochondrial complex I metabolism supporting tumor growth and metastasis

The contribution of mitochondrial respiratory chain complex I (C1) to cancer metabolism has attracted attention as a promising therapeutic target for cancers. However, conventional inhibitors have high toxicity (rotenone) or low efficacy (metformin), and the lack of clinically available C1 inhibitors has hampered their clinical applications. Here, by performing plant extract screenings, we identified petasin as a new, highly potent C1 inhibitor with a different chemical structure from conventional inhibitors. Petasin has more than 1,700 times higher inhibitory activity than conventional compounds, including phenformin. Also, petasin significantly suppressed the energy metabolism of cancers and inhibited tumor growth and metastasis in multiple animal models. Notably, petasin induced no apparent toxicities on normal organs or tissues. Given the characters of petasin, including 1) high C1 inhibitory activity, 2) low toxicity, 3) inhibitory activities against tumor growth and metastasis, and 4) availability for total synthesis, petasin has the strong potential of a promising lead compound to target C1-mediated cancer metabolism.

Naoto MACHIDA

Nagoya University

Living with Developmental Disabilities and Transgender Identity

Recently, in the context of international research on transgender (TG) people, it has begun to be reported that a high percentage of TG people have developmental disorders (especially autism spectrum disorder and attention-deficit/hyperactivity disorder). In addition, a high prevalence of depression and anxiety among TG individuals with developmental disorders has been reported, as has their susceptibility to secondary disorders. However, almost no studies have clarified aspects of their experienced world from the perspectives of both gender and development. Based on the analysis of interviews with TG people and the literature review on developmental disabilities, I aim to provide insights into analyzing the experiences of TG people with developmental disabilities.

Akira YOKOI

Nagoya University

Overcoming transitional women's total health care problems by EV analyses

Extracellular vesicles (EVs) in human body fluids are known to alter their profiles depending on pathological status, and are expected to have various clinical applications. Recently, women's total health care problems are changing dramatically, and her we aim to contribute to solving these issues by centrally investigating EVs. We are analyzing various body fluids such as blood, urine, follicular fluid, amniotic fluid, and cancerous ascites fluid according to the issues, aiming to accumulate evidences that can contribute to realize novel and practical medical care.

Matthew Paul SU

Nagoya University

Elucidating the Aedes aegypti molecular circadian clock to develop new tools for mosquito control

Aedes aegypti mosquitoes transmit pathogens which infect hundreds of millions of people every year, making novel control methods with new targets desperately needed. The circadian clock has been highlighted as a promising target because it influences the timing and duration of many important behaviors, including feeding and mating.
Effective targeting of the clock however requires detailed knowledge of clock function and mechanisms, with this knowledge currently extremely limited. My research seeks to improve our understanding of the Aedes aegypti clock via mutant generation and quantification of resulting behavioral changes. Future investigations (via international collaboration) will utilise clock-targeting compounds to disrupt major behaviors in the lab and semi-field.

Hidenori TANAKA

TOYOTA CENTRAL R&D LABS.

Inducible genome rearrangement system using restriction enzymes for bioeconomy

We recently developed two types of large-scale genome restructuring system named the TAQing system and extended TAQing (Ex-TAQing) system, respectively. Both system can induct genome rearrangements by triggering transitory DNA double-strand breaks (DSBs) using restriction enzymes. For TAQing system, we used TaqI, cutting DNA at the specific sequence (5′-TCGA-3′) among the genome at 37–42°C. To activate TAQing system in vivo, heat treatment must be needed, however it sometimes causes severe damage in certain plant species at flowering stage. To overcome this shortcoming we are developing an Ex-TAQing system, enabling us to use a wider range of restriction enzymes which are active at the lower temperatures the plant usually grow. For the Ex-TAQing system, we used MseI because it efficiently digests DNA at the 5′-TTAA-3′ sequences in vitro and it was confirmed to induce genomic rearrangement at room temperature from 22 to 25°C. Next-generation sequencing analysis validated that the rearrangement site is a neighbor of the recognition site for restriction enzymes in both systems. Furthermore, our screening test for useful traits, such as stress torelance and the production of bioethanol, indicated that our genome rearrangement contribute to produce a bunch of mutants with beneficial phenotypes.In conclusion, the diverse genomic rearrangement patterns induced by various characteristics of endonucleases pave the way to unlock the pottential for artificial genome reorganization.

Kenichi MINOYA

DENSO

Learning Embodied Optimal Point and Restricted Deft Search

We propose Learning Embodied Optimal Point and Restricted Deft Search (LEOPA): a learning based hierarchical motion planning algorithm which achieves a faster learning convergence and better solution through reasonable state and action spaces. LEOPA breaks down the motion planning problems into the learning of the end effector position and exploration of the remained posture. We evaluate LEOPA on a motion planning environment which consists of finding a valid, collision-free path for a 6 DOF robot manipulator from a start configuration to a goal configuration. The results show that LEOPA demonstrates a 100% success rate consistently in all 200 unseen environments. Also the average computation time of the results is less than 1 second, which is significantly lower than sampling-based methods.
Session C : 16:10-16:40

Naoki AZUMA

Nagoya University

High-speed analysis of biomolecules such as large DNA using microfluidic device

Genetic analysis of bacteria has been effectively used to identify the infection route of the bacterial. Gel electrophoresis using a gel as a molecular sieve matrix is usually used for the genetic analysis, but it takes several days to analyze large DNA molecules which have more than 10,000 base pairs. In this presentation, I introduce our developed microfluidic device that has micrometer- and nanometer-sized structures in a microchannel fabricated by a microfabrication technology, and a faster analysis of large DNA molecules using the control of migration of the DNA in the microchannel.

Hirotaka IIJIMA

Nagoya University

Scientific challenge for "Exercise as Rejuvenative Medicine"

Aging is a leading cause of functional decline in organs, resulting in age-related diseases. I have been researching how we can promote healthy lifespan via regulating biological aging processes using the integrated approaches from rehabilitation medicine, aging medicine, molecular biology, and computational biology (Iijima H, Jikken Igaku 2019). We found that an age-related increase in extracellular matrix stiffness initiates pathogenic mechanotransductive cascade that drives a common age-related disease, knee osteoarthritis (Iijima H, Nat Commun; Major revision). These studies suggest that age-related pathogenic mechanotransduction is a novel therapeutic target in the osteoarthritis as well as other age-related diseases. Recent advance in the aging research field is the finding that physical exercise can regulate aging processes and, therefore, exercise is now recognized as Rejuvenative Medicine. Intriguingly, using an integrated approach of computational and cellular biology, we recently found that exercise can counteract the pathogenic mechanotransduction driven by age-related stiff ECM and restore cellular health.

Daisuke KUWAHARA

Chubu University

Development and application of microwave and millimeter wave measurements covering a wide frequency bandwidth

We are developing superheterodyne microwave and millimeter-wave measurement instruments in the wide bandwidth from several GHz to 100 GHz. The features are non-contact measurement, high-speed measurement, and high-sensitivity phase measurement. The frequency-multiplying transmitter/receiver used by the author has features such as the use of easily routable coaxial wires for input/output to/from the transmitter/receiver even in the millimeter wave band, compactness, and low cost. The transmitter is currently being used to measure fusion plasmas and electric propulsion plasmas, and is being considered for use in other materials and phenomena that interact with microwaves.

Hidenori TANAKA

Chubu University

Theoretical research and case study of Play Therapy.

I make a particular study of theoretical research of Psychoanalysis and Jungian Psychology. In the conventional theory of play therapy, the meaning and effect of play therapy were categorized as "catharsis", and "making the relationship between the client and the therapist". I considered that this way of thinking substantiates playing, and treats playing like a matter.
In the 3 case studies, I discuss the point of view of the generation of the subject. The child perceived the internal reality as mere things, and, in a parallel process, he spontaneously touched the reality of his internal reality. In play therapy, the child spontaneously gets into the reality of play, at the same time, he makes a viewpoint to overlook occurrences as a whole. I consider that dialectical movement.

Miho CHIKAZAWA

Meijo University

Analysis of the effect of diet on antibody repertoire and health

Antibodies are immune molecules that contribute to the prevention of infectious diseases. Antibodies are constantly produced in the body against various antigens, constituting a diverse population (antibody repertoire). Various factors, including diet, are thought to influence the antibody repertoire, which also may be related to the disease onset. By analyzing the relationship of food components on antibody repertoire, we are trying to elucidate the effects and roles of diet on health and disease.

Kazuki TAKAHASHI

DENSO

Development of novel proton conducting coordination polymer glasses for intermediate temperature fuel cells

Proton conductive materials are important components of various electrochemical devices. One significant device is the fuel cell, and anhydrous proton conductors as electrolytes working above 100 ºC have long been in high demand. However, the fluorinated solid polymer electrolyte materials used in conventional fuel cells show a significant decrease in proton conductivity due to evaporation of water at temperatures above 100 ºC. To solve this problem, we are developing coordination polymer glasses composed of metal ions and ligands. In this presentation, we will introduce the results of our research to date.

Yoshikazu FURUTA

Hokkaido Universit
(Present:TOYOTA CENTRAL R&D LABS.)

Genomic analysis of multidrug-resistant Enterobacteriaceae and Bacillus anthracis isolated in Zambia

Due to the recent advance in genome sequencers, it is getting easier and cheaper to obtain gapless and accurate complete genome sequences of bacterial strains. Comparison of such complete genome sequences can reveal genetic diversity and geographical diversity between bacterial strains and provide fruitful information for epidemiological study of pathogens. I show the results of two studies of the complete genome comparison analysis applied to Zambian isolates of pathogenic bacterial species: multidrug resistant Enterobacteriaceae and Bacillus anthracis. Both studies revealed molecular mechanisms of acquisition and deletion of a large genomic region containing antimicrobial resistant genes and successfully explained the difference of the antimicrobial resistance profile between strains.